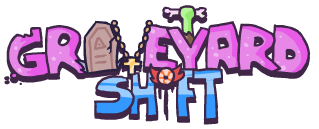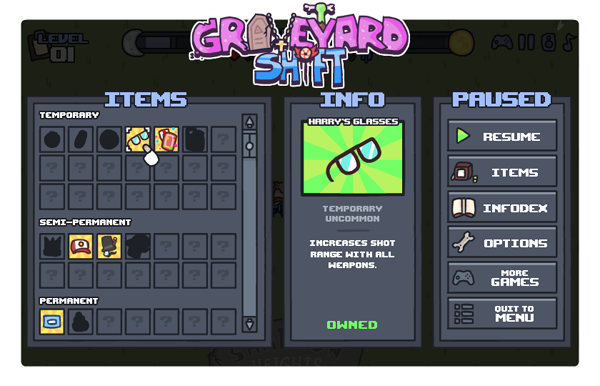 The items featured in the game will make refference to my other releases. These are Harry's glasses from "Once Upon A Life"
I'd like to invite you all to keep up to date with a new shooter I have in development with J Wolf Games!
It's called Graveyard Shift.
*
It's a 2D blaster where you take out a bunch of enemies and along the way dig up sweet new items, unlock new guns, upgrade them and upgrade yourself! It also has loads of other cool features that you can find out about soon enough but for now I'm posting development screenshots and videos on my Facebook, so make sure to hit the Like button if you want to follow the game's progress every week!
In other news, I will be updating my website in the coming weeks; it's all ready to go but I want to launch it along with a new game that's just being readied for release, so I'll upload the new site when the game releases. It's a nice little portfolio and will have some cool stuff for you to download!
I have LOADS of other stuff on the go and I've been working like a mad-man; I suspect this will all come to a head with a cavalcade of releases in a very short time in the near future.
Thanks for checking it out!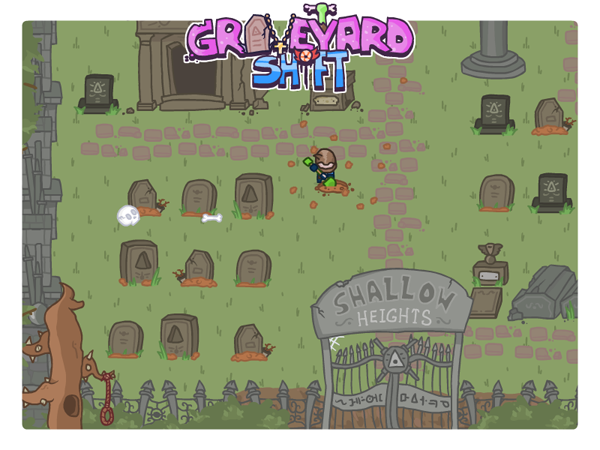 Other cool stuff:
============
I had the priviliege of working with BritishMoose very early on in my game development career on our game "Snowstar" which we released on this site 8 YEARS AGO. That's the best part of a decade! Now he's back and his work is sickeningly good. He's just uploaded a new 40 second short, go check it out and give him your love!
-
My Graveyard Shift programming partner recently released the sequel to his successful Sentry Knight game. Check out the second one here if you like addictive games.
-
I've started to use Twitter ever so slightly more often now for ScreenshotSaturdays!